Spotify For Artists: The Ultimate Guide To Grow Streams
Simply said, how you use your Spotify for Musicians profile will determine how successful you are on the well-known streaming service.

In order to help you make the most of your profile, we've put up this guide on Spotify for Artists' significance. It also includes some of our finest advice.


By the end, you'll have a tried-and-true Spotify strategy that will increase your streams and expose your music to new listeners.
Why is Spotify good for musicians? 
Spotify is now the best platform if you want to share your music with the globe. Around 406 million people use Spotify each month, and depending on their account's terms, musicians can anticipate earning $3 to $5 for every 1,000 views.

Every year, Spotify pays out billions of dollars in royalties from paid subscribers and commercials that are shown on their service, which is available for free. Although there are other streaming services available, all upcoming musicians should be on Spotify because it is the dominant player in the market.
What Is Spotify for Artists?
After uploading their music to the platform, musicians can use the free add-on known as Spotify for Artists. In essence, it's a tool that will assist you in expanding your reach and bringing in new streams.

The ability to customize your profile and highlight your musicianship is one of Spotify for Artists' primary advantages. This enhances your credibility in the field and draws more listeners to your recordings.
Also, it gives you a chance to interact with your present fan base and introduce yourself to potential new listeners who might enjoy your music. Making the most of Spotify for Artists will increase your chances of success on the platform, whether you are an independent musician or are signed to a production company.
Why is your artist page so important? 
Many millions of listeners from all around the world rely on Spotify as the indisputable streaming industry leader and preferred platform. The likelihood is that a new audience will use Spotify to check you out when you're attempting to spread the word about your music.

New listeners will check out your artist page on Spotify to learn more about you, whether they've seen you play live or on YouTube. Also, they'll look at your previous tracks using your profile.
You won't be able to increase your fan base if your Spotify for Artists profile isn't optimized. It would be similar to someone finding you on Instagram only to discover that you have only posted once and don't have a profile photo. How come they bothered to follow you? The answer is no!

Furthermore, the majority of individuals discover new songs mostly through Spotify playlists. Before leading users to the appropriate playlists where they can locate tracks they may enjoy, the Spotify algorithm determines what its users want to hear.
You have a far lower chance of being included on a playlist if you don't take the time to build your Spotify for Musicians profile.

In general, your Spotify profile is the ideal approach to present yourself to both your existing fan base and any new listeners that come across you on the service. Also, it demonstrates to the Spotify algorithm that you are an artist worthy of consideration, raising your likelihood of being added to a playlist.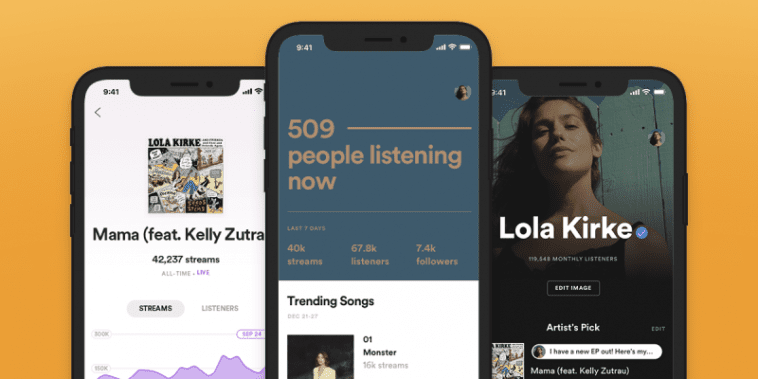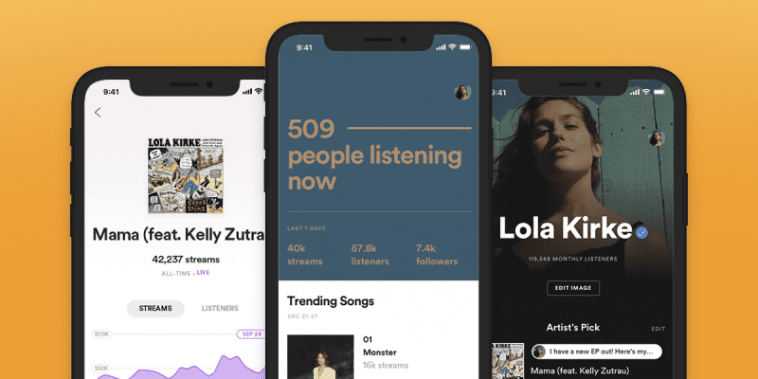 Tips on how to use Spotify for Artists to grow your streams 
There are numerous considerations you must make before beginning your musical career. You must pick your channels, think about your representation, and create a social media page.

In other words, it can be too much. You must optimize your Spotify for Musicians profile if you want to succeed on the platform and gain a following as a result, therefore it's crucial that you don't ignore it.

Here are some of our best suggestions for using Spotify for Musicians to expand your streams, which will help you develop your audience and be paid more as a musician.
Tip 1: Optimise your profile 
The first and most obvious piece of advice is that you should optimize your profile. You have a blank canvas to work with once you've claimed your profile on the platform. We advise including professional photos of yourself as a musician along with pertinent details about your endeavors.

While consistency is important for building your musical brand, your TikTok, Instagram, and YouTube profiles should all be represented on your Spotify for Musicians page. Use consistent images, colors, and fonts throughout all of your marketing materials to help customers remember your brand.
You can change a variety of settings on your profile, such as:


Header/avatar: Seize this opportunity to excel. While it's not necessary to go overboard, give off a more professional air on Spotify so that people who visit your page will take you seriously. Utilizing a shaky image from a wild night out won't cut it!
Bio: You have 1,500 characters on Spotify to tell your story. It's simple to try to be overly clever in your bio, but you should instead use the characters at your disposal to tell your tale. Once more, keep things straightforward and introduce yourself to your new fans.
Your Spotify gallery is located in addition to your artist bio and avatar. You can share pictures from performances and recording sessions using it much like your Instagram story. You have another opportunity to establish credibility with your audience and demonstrate your qualifications.
Social media links: The ability to link out to your social media accounts is one of the most crucial features of your Spotify for Musicians profile. Offer your listeners the option to follow you on other channels, and encourage them to do so to join your existing fan base.
You should see your Spotify for Artists profile as an opportunity to highlight your musical abilities. If you leave it blank, you're losing a great chance to establish connection with your audience, which, if done correctly, will help you drive streams and income.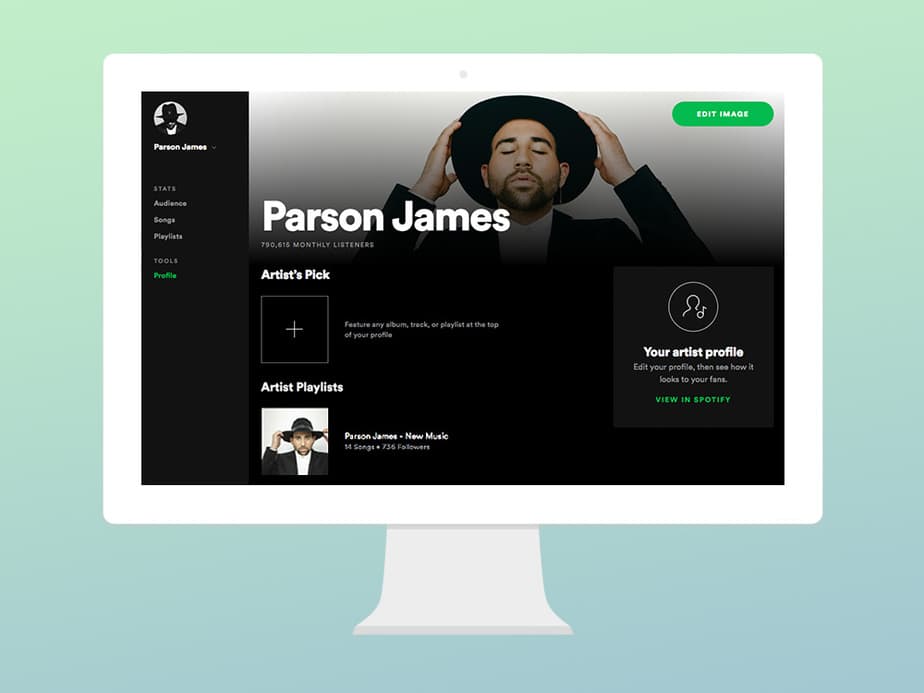 Tip 2: Utilise the statistics 
The statistics you can access through your profile are the Holy Grail of every Spotify for Musicians account. In the modern era, you have access to a wide range of statistics that demonstrate your level of popularity as a musician and suggest ways to expand your fan base.

You have access to a priceless resource of current statistics as a registered artist, which you can use to your advantage. As we describe in more detail below, the two areas that are most significant to you are music and audience.
Music 
Songs, releases, playlists, and upcoming are the four sub-categories you will see when you click on the music tab. You may get data for streams, listeners, and views under songs and releases.

You may view the number of streams and listens you've gotten from Spotify playlists that have included your music under the playlist tabs. This is an important measure since it illustrates how well the Spotify algorithm has disseminated your music.
Our Spotify Playlist Placement service is perfect for up-and-coming musicians hoping to get more streams on the platform, so be sure to check it out if you're looking to expand your follower base. 
Audience
You can track details like unique listeners and how they found you with the use of the statistics that are shown under the audience tab. Even the demographics of your listeners, such as their location, age, and gender, can be discovered.

Why is this crucial? as a musician, it aids in the planning of your marketing and promotion strategy. It is really important to consider your current data and develop a plan that will appeal to the proper demographic.
When you know who is listening to your music, you can improve your Spotify for Artists account and use the data available to you to grow your audience, which will see an increase in streams as a result.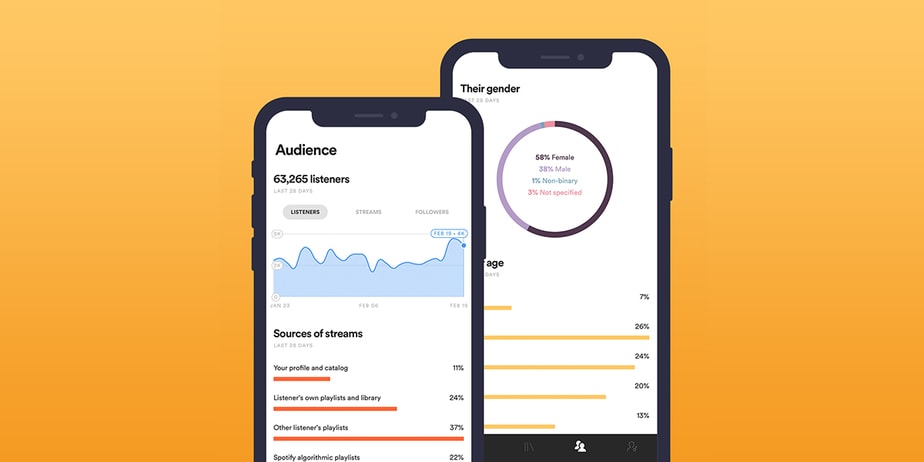 Tip 3: Maximise your playlist exposure 
According to research, at least 31% of music listening time is spent listening to playlists, but this percentage is surely rising. The fact that the majority of Spotify users utilize their recommended playlists to discover new music every week emphasizes the value of playlist exposure for musicians.

You can use Spotify for Artists to track your exposure to playlists and assess how you're doing. You can examine what kinds of playlists feature your music and how that affects your streaming figures.
By simply claiming and improving your profile, you can let Spotify know that you'd make a suitable playlist candidate. Also, consistently updating it and linking to your other social media will greatly increase the exposure of your playlist.

Maintaining a stale profile won't help your cause, so make sure it's updated with your most recent releases and even pictures of your recent musical adventures. After all, the more playlists that feature you, the more streams you'll get for your music.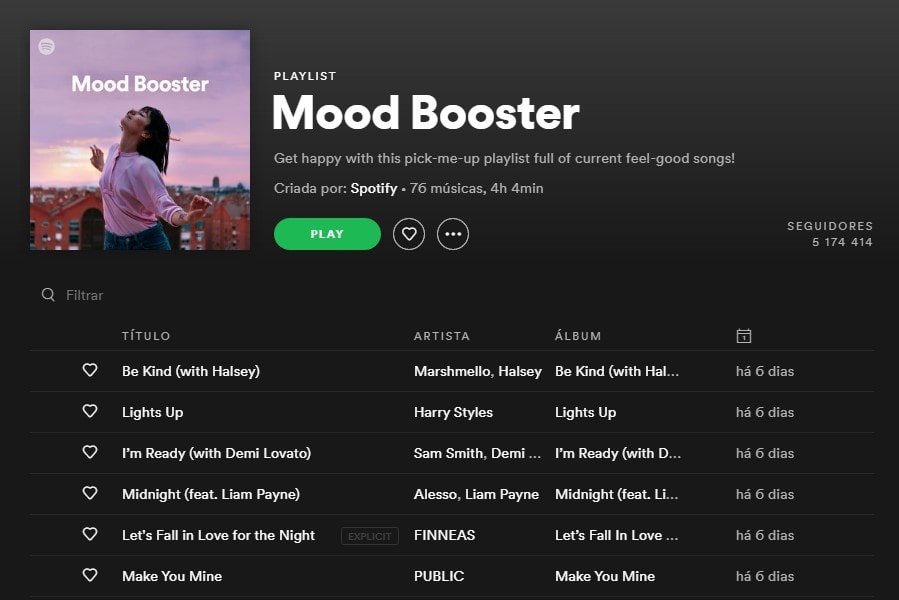 Tip 4: Use canvas to your advantage 
Canvas is one of Spotify for Artists' coolest features. You can customize your profile by adding a mix of 2D and 3D visuals, which will take the place of the album artwork when someone listens to your music online.

The canvases that go with your tracks are completely under your control, and you have complete control over them. The appeal of these canvases is that they highlight your originality as a musician and make your music even more distinctive.
Also, it increases the appeal of your music, which encourages more listeners to visit your profile after hearing it for the first time. A stunning Spotify canvas is another excellent technique to increase streams through your Spotify for Artists profile overall.
Get your music on more playlists today 
The first step is to use and optimize your Spotify for Artists profile. After you're ready, it's time to promote your music by showing up on playlists.

As playlists are one of the main ways that people discover new music, featuring on playlists is crucial if you want to increase the visibility of your profile on Spotify, as we've discussed throughout.

Via our Spotify Playlist Placement service at EM Network, we've assisted countless musicians in reaching thrilling new heights.
You may choose your playlist, and we'll make sure the correct people hear it. Your chosen music will start getting streams straight away, and we guarantee placement for at least thirty days.

While generating organic traffic for your Spotify profile is laudable, it won't yield the desired outcomes. Together with our placement service, we also organize Spotify Campaigns that can put your music in front of up to 100,000 potential listeners each month, promoting you.

Hence, if you want to be a successful musician on Spotify, be sure that you have the necessary tools and a plan in place to maximize the platform.
Final thoughts 
You now have a fantastic opportunity to share your music with the world and reach new fans thanks to Spotify for Artists. All musicians can benefit from increasing their streams and maximizing their royalty earnings thanks to the aforementioned advice.

Check out our selection of Spotify promotion services right away to get the assistance you require to show off your skills to the eager streamers.